August 2005 arrivals
Well August will be probably quite calm, but you can already prepare for the Zemanek auction and the Kaos Fair in Paris in September and the Taf Fair in Amsterdam in October, and if you feel like travelling, go for the "Arts of Africa" summer exhibition by Ezio Bassani in 'Monaco-Arts of Africa'.

See also some of my fine recent acquisitions at the bottom,
Zemanek - 43rd Tribal-Art-Auction
(148th Auction) September 10th, 200
Auction result: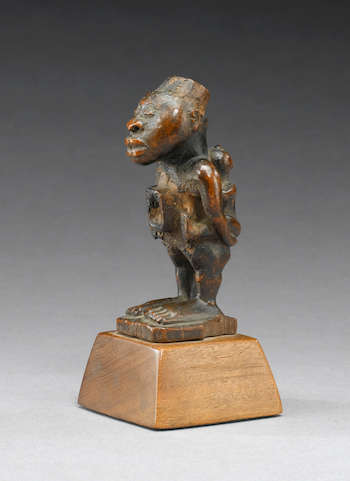 At a mid-summer auction in Bonhams-London a small Kongo maternity fetish figure went for 10 times the high estimate
wearing a flat topped cap, the face with worn features with generous mouth and nose, standing with a child on her back, the abdomen carved with a rectangular fetish area, the large feet placed on a rectangular base, good glossy patina, two of the corners chipped, 10.2cm
Estimate: £1,500 to 2,500
Sold for £24,000 plus Premium and tax
Footnote:
Provenance: Acquired 1950 from the Berkeley Gallery and illustrated by Charles Milton.
read more about this auction on my blog: http://africanantiques.blogspot.com/
Decoration:
Collectibles used in American homes come from many countries. Crafts from Africa have been especially popular since the 1960s .
read: Collectors see beauty in African art
EXHIBITIONS:
MODERN:
Dieter Maria Scheppach, an artist from Nürnberg understands the concept of traditional African art, and he founds new ways to develop an own synthesis between traditional patterns and his personal style...
Exhibition "rivercrossing" Europa - Afrika in Erlangen
Reminder: EXHIBITION 'Monaco-Arts of Africa' the exhibition that is now in Monaco, from Ezio Bassani. 6000 years of African Art hand in hand from the old Nok civilization, to contemporary artists like Cheri Samba.
SAM FOGG PRESENTS Ethiopian art
at PaceWildenstein in New York in October 2005
related: PaceWildenstein Estate Property and Dealers
OPINION: "Are most of the African Art collectors "Dowayos"
MUSEUMS:
At the Cantor Arts Center at Stanford University the Arts of Africa, Oceania, and the Americas gallery is arranged by region: the Western Sudan, the Guinea Coast, the Equatorial Forest of Central Africa, and the Southern Savanna.
The curator is Manuel A. Jordan. read The Cantor Arts Center at Stanford University

related: African History - Congo expedition

The magic of SAMA's Resonance from the Past is in its everyday spirituality

$20.5 million for an Islamic art gallery at the Louvre museum in Paris.
Where Gods and Mortals Meet: Continuity and Renewal in Urhobo Art at NMFA-Smithsonian Washington.

It is not nice to hear about Smithsonian firing : African Art Director Cuts Five From Staff, Citing Cost, Priorities.
UMFA-Arts of a Continent

The Utah Museum of Fine Arts offers a stuning primitive-art exhibition
Virginia Museum of Fine Arts acquires significant African art The Jukun figure and 37 more figures, masks, vessels and other objects from West Africa were purchased with $289,000 from the Williams Fund....
FAIRS:
I will be participating at the Tribal art Fair Amsterdam 27, 28,29,30 October 2005
Parcours des mondes 2005 à Paris Saint-Germain-des-Prés
Arts d'Afrique, des Amériques, d'Asie, et d'Océanie
It's the 4th edition of this famous Fair where you can meet most of the African Art dealers.
Vernissage le mercredi 14 septembre 2005 de 14h à 21h
Du jeudi 15 au dimanche 18 septembre 2005 de 11 heures à 19 heures
Nocturne le vendredi 16 septembre 2005 jusqu'à 21h
Some of my recent acquisitions: click on images for details.
A northern Fang Betsi reliquary figure.
Wood, metal. Hight: 36 cm.
Provenance: Michel Gaud who bought it from
Jean Cambier a private Brussels-Belgium collector.
A very fine Lega mask coming from the artist Michel Boulanger collection (Liege, Belgium)high: 20.2 cm
provenance: Boulanger, Michel (1944-) Artist/coll. Liege-Belgium. Started collecting in 1986, especially interested in Lega. (c)Who's Who in African Art
You can also receive these emails in your mailbox:
African Antiques e-Newsletter
I never thought I would receive so much information's about the African art world !
buy african masks
African masks from Known Collections
Subscribe today :
Free African Art Authenticity Report

Dear African Art Collectors,
Discover the African Art books I like or join me on facebook
African Antiques is the archive and not growing much anymore but still updated.
Visit African Art to join our free newsletter and read recent African Art News.
For the last news about August05-Arrivals you should join our African Art Club and become an insider of the African art market.
And if you are a collector of African Art, have a look at our exclusive African Art Collection for sale.
David Norden

Mail David Norden
Sint-katelijnevest 27
ANTWERPEN-Belgium

Any questions?
Call us at +32 3 227 35 40
african art | home | african art shop
In this section:
Start
Omhoog
November 2003
December03
jan04-Arnhem
Arnhem-Fair 04
februari 2004
News-March04
May04
October04-newsletter
March05
May05-decisions
April05-news
June05
July05
oct05
August05-Arrivals
september05
december05news
february06
feb06-02
Lisboa-Fair
FlyLisboa
April 06
june06
june06-Paris
August06
donate
september06
Antwerp celebrates african art
october06
december06
March07
Mid-April07
brussels events june 07
statues walk out of church
AUCT-What is UP in Cannes

The Tribal Arts of Africa
Author: Jean-Baptiste Bacquart