About the African-Antiques Newsletter, December 15, 2006
OLD Kusu. 36.5 cm. 3,000 €
African-Antiques Newsletter, December 15, 2006

By David Norden
Dear African Art Lover,
Please realize that we have not charged for this newsletter in the past, but are we a not-for-profit organization? Therefore, please support our efforts by visiting www.buyafricanantiques.com .
You can help yourself and us out by visiting and searching through our extensive inventory, which has something for everyone. Your purchases would help to support this newsletter.

I will continue sending this newsletter to everybody on my list without establishing a payment gate, so consider it as if it was a shareware newsletter.
If you bought pieces from me in the past or intend buying pieces from me over the next six-month period, you shouldn't pay to read my newsletters.
If you enjoy reading my newsletter and feel that you got some rewards, please consider to donating to david@african-antiques.com through www.paypal.com .
After all, you pay also to read your newspaper and magazines, and most of them end in the paperbin after a while. Since we issue 12 to 25 editions each year, I would appreciate it if you would pay in advance for a full year the amount you feel comfortable with.
For those of you who don't know how much to pay me I did a pool in the discussion group http://groups.yahoo.com/group/AfricanAntiques/ with the question
"How much are you willing to pay a year to receive 12-25 of my newsletters in your mailbox ?"

Thank you for your kind understanding and patience with this little promotion.
Enjoy the mid-December edition.
COMING UP IN THE NEXT NEWSLETTER:
A REPORT FROM THE AUCTIONS;
MUSEUM AND COLLECTORS NEWS.
HIGH PRICES ARE NOT EVERYDAY'S LIFE.
Over the past few weeks, I had some serious trouble with a kind of pre-Christmas blues, and felt quite desperate because my business was not going in the right direction.
I discussed the current market conditions with many people and took some decisions to revamp my websites and activities.
The past few years, I focused too much on high-end prices.
This is quite depressing, since most of us simply cannot afford those prices
and feel that the market was going in a direction that makes it impossible to collect anymore.
For that reason, many of the smaller collectors disappeared from the market.
I will prove to you that it is still possible today to find GENUINE and fine African Art items around 1,500 euros.
You don't need a six digit wallet to collect genuine African Art.
I will also show you in the future some auction results proving this statement.

I have also decided not to put the prices of the items on my website any more
(but I will mention these in the newsletters when I show things) so that I can establish a more personal communication with you.
Tell me the kind of items you like, the price range you bought for in the past,
and how I can advise you on building up your collection.

If you buy at www.buyafricanantiques.com the shipping costs will be on me.

Thanks,

David Norden

A few items you could have bought in Paris during the 4 December Calmels Cohen for a not too high a fee during the Monbrison sale:
Masque Eskimo, Alaska
Collection Isabelle Waldberg
11,6 x 16,8 cm
Estimated : 400 / 600 €
Result price: 245 €




Statuette sur un piquet de fer Koutine
Nigeria-Cameroun
Provenance : Musée Barbier-Mueller, n° d'inventaire 1015-150
Estimated : 1 000 / 1 500 €
Result price: 1841 €






Coiffe Ty-wara Bambara
Provenance : Charles Ratton (n° 3294)
Ancienne collection Josef Mueller, acquise avant 1939, n° d'inventaire BMG 1004-56
Estimated : 5,000 / 7,000 €
Result price: 4,295€



Sceptre Tschokwé Angola
Estimated : 1,000 / 1,500 €
Result price: 2,577 €




Some results from the Sothebys auction in Paris on 5 December 2006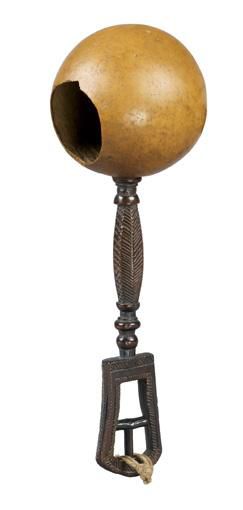 THREE LADLES (IVORY COAST, PROBABLY SENUFO) AND TWO RATTLES (WEST AFRICA)

Estimate: 750—1,500 EUR
Lot Sold. Hammer Price with Buyer's Premium: 1,680 EUR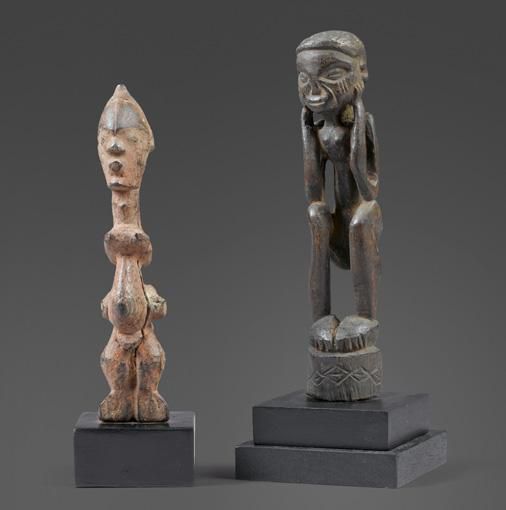 TWO LULUWA FIGURES, DEMOCRATIC REPUBLIC OF CONGO

Estimate: 1,500—2,500 EUR
Lot Sold. Hammer Price with Buyer's Premium: 1,680 EUR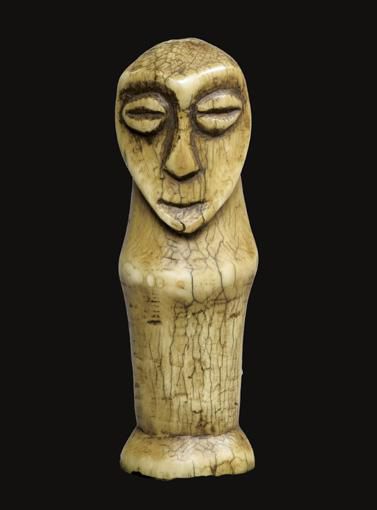 A LEGA IVORY HEAD, DEMOCRATIC REPUBLIC OF CONGO


2,000—3,000 EUR
Lot Sold. Hammer Price with Buyer's Premium: 2,160 EUR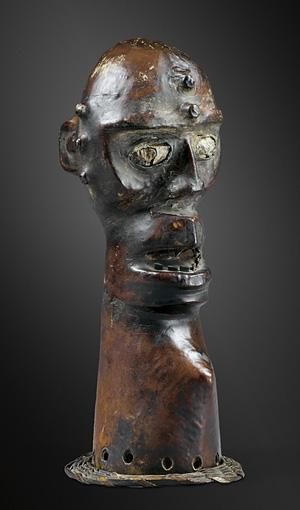 AN EKOI/EJAGHAM HEADRESS, NIGERIA

1,500—2,500 EUR
Lot Sold. Hammer Price with Buyer's Premium: 1,680 EUR

Of course there where also some high prices paid, but I am sure you can find the results lists if you need them:
http://users.telenet.be/african-shop/auction-news.htm
NEW BOOKS ON AFRICAN ART IN THE BOOKSTORE
The Amazon bookshop is the best place to find African Art related books, music CD's, and DVD's. I have added many new books that I found interesting reading, most of them are also on my bookshelves in Antwerp. You are always welcome :
http://astore.amazon.com/africanantiqu-20
MUSEUMS NEWS
Kahn Yale Opening University Art Gallery's Main Building Reopens
The numerous new acquisitions that will be on view throughout the Gallery include selections from one of the largest and most significant single gifts of art in the Gallery's history - the exceptional Charles B. Benenson collection of African art. Read Kahn Yale opening
http://users.telenet.be/african-shop/kahn_yale_opening.htm
UCLA Fowler Museum presents
Fowler Intersections: World Arts, Local Lives
"Spanning centuries of multicultural creativity, this exhibition is the kind of art experience that might restore your faith in the sad old human comedy. How nice that the exhibition is on long-term view."
The New York Times
http://users.telenet.be/african-shop/fowler_intersections.htm
This exhibition highlights an exciting new direction for The Newark Museum's African collection. It features work produced between the late 1960s and 2006 by eight artists of diverse geographic and cultural backgrounds.

All are recent acquisitions. Viewed together, they expand our understanding of Africa and its artists, providing a window onto the ongoing artistic creativity of this dynamic continent.
http://users.telenet.be/african-shop/expanding_africa.htm


African Postcards Still Send A Message
At the Museum of African Art, Images Deliver Reminder of Innocence Found, and Exploited
http://users.telenet.be/african-shop/african_postcards.htm

Experts
Hans Hamers African Ceramics & restoration.

Hans Hamers (1949) has the largest African Ceramics Archive in the World.
He started as an art teacher, later becoming a consultant on visual arts and literature and more recently consultant on art education.
http://users.telenet.be/african-shop/african_ceramics1.htm
place an ad - the message board
http://users.telenet.be/african-shop/place_an_ad.htm

This is a new section on my site. If you want to publish a non commercial ad, have a request, or if you would like to contribute an article your ad will be free, if it is a commercial announcement for a quality piece you will have to pay a fee.

I have two requests this month:
One is from a bookseller, Kevin Connerton Alwyn, Book Scouts, Kingston, NY, who needs for one of his clients the representation of the 18 (or more) N'Dop kings or a book illustrating them. Email:alwynbooksATearthlink.net

The other request is from Anna, a student at SUNY, Geneseo - who is writing a research paper on African art and its relation to the United States - who needs some statistics research about the African Art Fair Trades in the US. Email: amp1 AT geneseo.edu
She wrote a paper on African-Antiques:

African Art Work in the Developing World:
Emerging Appreciation through Americanization and Exploitation
http://users.telenet.be/african-shop/african_art_dealers_statistics.htm
OBITUARY:
Jos Quodbach (1956-2006) father of Isa, and friend of many African Art dealers and collectors, died after a sudden illness at the age of 50. He was an African Art lover and started his last journey. Those who knew him will miss him.
Pieces for sale:
December selection: http://www.buyafricanantiques.com/tm_collection.htm
African masks: http://www.buyafricanantiques.com/african-masks.htm
African statues: http://www.buyafricanantiques.com/african-statues.htm
African objects: http://www.buyafricanantiques.com/african-statues.htm
A Benin Ivory Armlet: http://www.buyafricanantiques.com/benin_ivory_armlet.htm

Calendar of Events:
To have your event listed for free, just send me your information. We now offer logo links on each page to the event's web site and/or special extended event listings and/or a dedicated page as a paid option for galleries, museums, exhibits managers, auction houses, etc.
Contact me at +32 3 227 35 40 for details.
Past Newsletters
If you wish to see and search my past newsletters, you can now go to:
http://users.telenet.be/african-shop/african-news-archive.htm

Although I have copyright to these newsletters, you are not restricted in any way for your own personal use. In addition, feel free to send them on to friends and acquaintances. Just make sure that you acknowledge the source and include my copyright notice. Also, let your friends know that they can be added to my mailing list by going to the subscribe page at
http://users.telenet.be/african-shop/submission.htm .

Of course, if you don't want to receive this FREE newsletter or my more self-serving commercial notices, you can unsubscribe by following the link at the bottom of this email.

Hope you enjoyed this edition,

David Norden
For those who aren't subscribed yet:
African Antiques newsletter: I never thought I would receive so much information's about the African art world!



I want to stay informed :


auctions fairs exhibitions authenticity stolen art museum news dealers

Mail David Norden Sint-katelijnevest 27 ANTWERPEN-Belgium
If you need assistance call Tel +32 3 227 35 40
buy african masks
African masks from Known Collections
Subscribe today :
Free African Art Authenticity Report

Dear African Art Collectors,
Discover the African Art books I like or join me on facebook
African Antiques is the archive and not growing much anymore but still updated.
Visit African Art to join our free newsletter and read recent African Art News.
For the last news about december06 you should join our African Art Club and become an insider of the African art market.
And if you are a collector of African Art, have a look at our exclusive African Art Collection for sale.
David Norden

Mail David Norden
Sint-katelijnevest 27
ANTWERPEN-Belgium

Any questions?
Call us at +32 3 227 35 40
african art | home | african art shop
In this section:
Start
Omhoog
November 2003
December03
jan04-Arnhem
Arnhem-Fair 04
februari 2004
News-March04
May04
October04-newsletter
March05
May05-decisions
April05-news
June05
July05
oct05
August05-Arrivals
september05
december05news
february06
feb06-02
Lisboa-Fair
FlyLisboa
April 06
june06
june06-Paris
August06
donate
september06
Antwerp celebrates african art
october06
december06
March07
Mid-April07
brussels events june 07
statues walk out of church
AUCT-What is UP in Cannes

The Tribal Arts of Africa
Author: Jean-Baptiste Bacquart