Return to www.redangel.tk
German prison camp Stalag 8b
Information
Stalag is the common name for the German POW camps and Stalag 8B was in Lamsdorf in what is now Polish territory, then known as Silesia.
Stalag 8B was later known as Stalag 344 PoW camp situated 3 Km from Lamsdorf
The Polish name is Lambinowice
Today the site is a museum dedicated to the memory of the prisoners who were held there
stalag 8B can be found on the picture below as stalag 344 near Lamsdorf in Germany just above the border with Czechoslovakia and not far from the border with Poland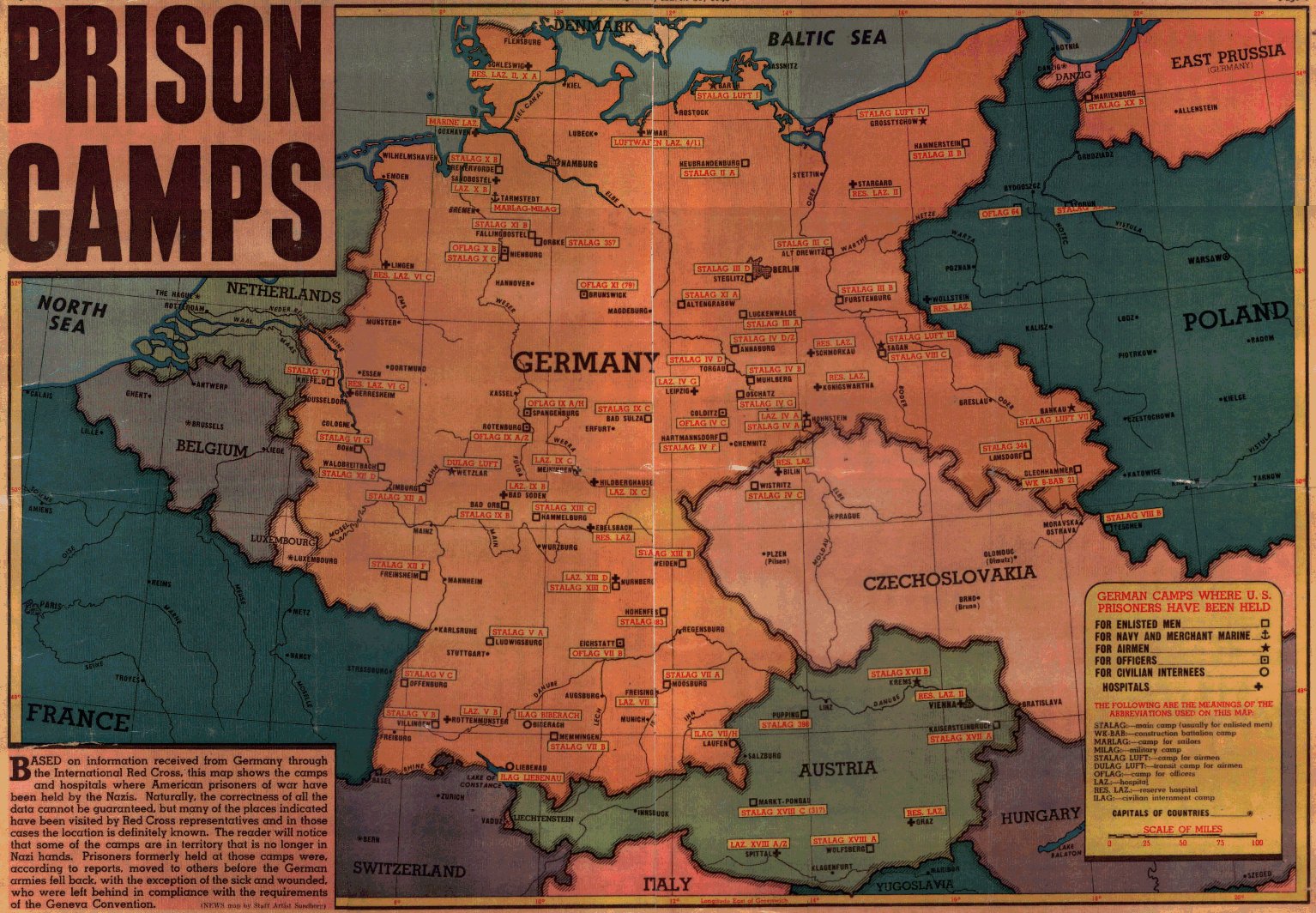 The site of the former Stalag VIII B (344)
Stalag VIII B was set up in 1939, making use of partially preserved camp constructions dating from World War I. Initially, it served the purpose of a transit camp and afterwards was transformed into a permanent camp. As a result of the organizational alterations made primarily in 1943, the unit name Stalag VIII B - hither to applied exclusively to this camp (also referred to as "Britenlager") was extended over the following stalags: 318/VIII F Lamsdorf and VIII D Teschen (Cieszyn). Thus, one of the largest German prisoner-of-war camp complexes came into existence. After a subsequent reorganization, the camp once again became part of the Łambinowice complex from that moment on designated as Stalag 344 Lamsdorf, whereas the designation Stalag VIII B was extended over the camp of Teschen.
The first prisoners-of-war interned at the camp were Polish soldiers of the September Campaign of 1939. In the wake of the further invasion launched by the Third Reich nationals of other countries, such as Belgians, French, British, Yugoslavs, Greeks, Americans, Canadians and Italians were brought to the camp. It is estimated that there were about a 100 thousand POWs to go through the camp altogether.
The grounds of the former Stalag VIII B are not accessible to visitors nowadays because of the military character of the area (it is still used as an artillery range). There have remained only fragments of foundations of huts as well as water basins for fire control purposes coming from the times of World War II.
| | |
| --- | --- |
| | |
| Fragments of the foundations of a hut | Remains of the water basin for the fire control purposes |
warprisoners
Inside a hut, Christmas 1943.
http://www.zdf.de/ZDFde/inhalt/25/0,1872,2004473,00.html (german site)
http://www.pegasus-one.org/pow/pSt_344.htm
http://www.pegasus-one.org/pow/pSt_8Bt.htm
http://www.buckdenpike.co.uk/stalag8b.html
http://camomilesworld.com/raid/insidestalag.html
http://www.darleys.pwp.blueyonder.co.uk/dad/page9.html
Lamsdorf Death March 1945
A story
22/1/45 -
At 2 P.M. on the fore mentioned date, We were issued with 1 parcel and l loaf of bread between two of us. The march started at 5.P.M. Weather is freezing cold and Jim and I lost our loaf on the road, they wouldn't let us stop to search for it. Marched until 3:00 A.M. Covered 28 k. Slept in barn, all of us were exhausted. Gunfire in distance. Dumped my kit too tired to carry it. Just blanket and parcel left.
23/1/45 -
Snowing heavily, very cold. Marched 32 k. Arrived at barn at 11 P.M. Jim and I slept in chicken coop. Feeling exhausted, we have covered nearly 45 miles in two days. 24/1/45 - Marched again well into the night, numerous fellows falling out only to die by the wayside. Germans just leaving tags on them. No rest halts. Stopping us from getting water. I fell down on ice, as we are crossing over Mountains. Directions roughly N.W. My knee is giving me trouble. I fell back and passed out near the front of a house. Frau gave me cup of coffee. Jim cut me a branch for a walking stick. A concerned German civilian lent me his bike for last two hours. Knee badly swollen. Covered over 30 k. Marched nearly 75 miles now in three days.
25/1/45 -
Dropped out this morning with Joe Barrow whose leg is frozen. Jim carried on. One hundred and Thirty two of us left here in a barn. Stayed here for 3 days with permission of the Stabzartz (Doctor). He however (German Style) told us we could all march, although the majority of us can't walk at all. Joe practically helpless, I'm looking after the two of us. I managed to get his leg dressed and got him in a German house. Russians supposed to have taken half of Breslau. We are about thirty miles from them. Burgermeister told us there may be a total evacuation from here. At 2:00 P.M. we march to Strelln 15 k. back toward Russian advance.Civilians packing the roads and getting out. Hoping the Russians will take us. If we are left God knows what will happen.
26/1/45 -
We are put in civilian jail. The roads are blocked with snow and army lorries. The Russians are 32 k. from us, (20) miles. Civilians in a real panic. First time I was ever in jail, but it looks pretty good to us. Have met up with some of the rest of the R.A.F. gang. About 540 altogether. About 35 Russians just brought in from Breslau area they look fit and well clothed. Sixteen of us are crammed into cell. At least it is warm. My knee is giving me trouble.

29/1/45 -
Had fairly good nights sleep. Russians kept fires going all night. I saved a loaf of bread from Jerries. Some of the boys brought a couple of sheep with them which cost 4 bars of soap. Made a stew out of the sheep. No one knows what will happen to us. Snowing heavily outside.
30/1/45 -
All sick personal to move off this morning by train. Joe and I packed hurriedly and about 200 of us left for the station. Given loaf and water. The weather is the worst we have experienced, it must be 30 degrees. below freezing point. It is snowing and there is a terrific gale blowing. Wrapped blanket around my head to keep face from freezing. My eyes hurt, and I have a continues headache. The name of this place is Hirschberg. In the prison we have just left there were 2 Jerry civilians serving 18 years for selling clothes without coupons. Some of the gang are now packed into open cattle trucks. I manage to fight my way into a cement wagon (closed top) and I got Joe in too. Those in the open cattle trucks will really get cold, but they have straw which will help. We are now packed in this cement wagon which is of all metal structure and 54 of us are crammed like sardines in this fish can. "The black hole of Calcutta" has got nothing on this. I think if Joe and I get out of this alive we will be pretty- God-Damned lucky. My knees are jammed up to my chin and none of us can move. It is pitch black and no air. Being the only Warrant Officer here I have taken charge of this mob. Some of the men want to urinate so we improvised a tin can session and pass it from one man to another and out of a hole in the ceiling. This job goes on all night and it gets monotonous. For 24 hours we are jammed in like this, unable to move a muscle, the pain from cramped muscles is almost unbearable. After a while one goes completely numb and we are just lying here in a semi coma. During the night one of the men has gone hysterical. We had to slug him out of it. Joe is nearly in tears- poor kid. He is only 22 years. old. One fellow in here, we call him "Pop" a cockney, was a prisoner in the last war, he's keeping us cheerful with his last war stories. I've got a job on my hands with this gang. God I hope morning comes soon.

31/1/45 -
Have just woken from a doze and my back and sides are stiff with cold and wet snow. It's coming in the sides of the cart. The men look all in. Traveled in spurts this morning and arrived at another town. We have finally broken the roof in to get some air in this hole. I have just called the Unteroffizier all the names under the sun for not bringing us any water. He said we have another 100 k. to go to a place called Hirschberg. Spend all day stuck in a siding. No water or rations. Men beginning to get mutinous. Continual squabbling and fighting going on as the guys are just living on their nerves. My fingers are now too cold to write. Have decided to make a break as soon as possible.

1/2/45 -
Spent a terrible night. Did not sleep, did very little traveling. Joe and I finished the last of our grub. A tin of cold peas and bread. Still no water. Continual headaches, feel lousy. At 10 A.M. we arrive at Schweidnitz, stood in siding for 2 hours. Managed to get a cup of water. We are now hitched onto an electric train. There is a marshaling yard here, wish the lads were here bombing the hell out of it.
2/2/45 -
We arrive at Ruhbank, have stood here for 3 hours. Managed to get another sip of water. The men are now openly abusing the German guards, expect trouble to start soon. Now at small station, there are a lot of civilian evacuation trains leaving from here. On the roads there are hundreds of evacuates with their carts and wagons etc., all heading west. Now having a fast run to Hirschberg and reach there at 7.30 P.M. A large junction and Aerodrome here. We are told we are going to an American Stalag at Hirschberg. We find that it is only a Russian Gulag Camp.

3/2/45 -
Another horrible night spent in this truck. This morning Bill and I made a break from the train and headed for the local village. We managed to find a bakery, but saw a German "Werhmacht" coming down the road. We beat it. We met a Frau who spoke a little English and got a half a loaf for a bar of soap. Joe flogged his overcoat for some cheese. We caught up with the train to find some bloody awful soup waiting for us, dished out from the Russians. A sort of barley soup, but almost too salty to eat. We are now told we are going to Gorlitz where there is supposed to be a Stalag. The lads are now selling all their clothing for grub. The German civilians here however have next to nothing. Two South Africans had a bloody fight over half an apple.
4/2/45 -
Still here at Hirschberg, now in a barn with 200 others. Today I went with Reg and Ron to make a break for it. We plan to head into open country and go due West at 6 P.M. Reg turned back and Ron and I met a Belgium who spoke only French. Rod who speaks French fluently, said he invited us to come to his home with him for a meal and some maps of the area. We hid outside until dark but we are caught by a German officer in charge of Russian P.O.W.s. We were beaten up and nearly shot. We are finally able to get away from the Russian camp and got back alright.

17/2/45 -
Left for Gorlitz this morning, usual promise of rations unfulfilled. Men nearly starving. Finally arrive at Gorlitz and find there is no rations here and very little food for the civilians either.

18/2/45 -
I sold my wedding ring at last for some food. Funny how all the French and Belgians have plenty of American Rations and food. British and Americans have none. Our Belgian allies are not nearly so generous. Left Gorlitz with Jim, Joe, Bill and Derek

18/2/45 - Gorlitz 8 k. column is 300 strong.
19/2/45 - Brick factory 14 k.
21/2/45 - To barn heading N.W.
22/2/45 - At barn.
23/2/45 - Back to main road 2 k. heading to Berlin,
24/2/45 - Bautzen
25/2/45 - At barn.
26/2/45 - 18 k. to Grossenhalp to Freiburg.
27/2/45 - At farm.
28/2/45 -
30 k. to Freiburg evacuated Stalag. Russians were being shot. No food. Tried to organize few Air force left to go to Stralsund at Rostock. Rewarded by being thrown out on the road. No rations or kit, but rejoined Joe, Gordy, Bill. Derek left behind.
7/3/45 - 18 k. to huts in the woods.
8/3/45 - 22 k. to Konigsbruck to German Lager.
9/3/45 - at Lager
10/3/45 - 18 k. to Radeburg
11/3/45 - 20 k. to Meissen, artillery camp.
13/3/45 -15 k. to farm.
14/3/45 -18 k. to Dobeln in depot.
15/3/45 - In depot, was served potato and bread.
16/3/45 -Left Dobeln during the night. First 13 k. up hill to Rochlitz. Slept on bare brick floors. No blankets.

17/3/45 -
Snowing all day. Left R. at 8.30. Traveled over short-cuts with bad country roads for 21 k. to Munsa. On our way in the afternoon passed through woods. Aircraft parked everywhere. Stole potatoes and carrot.

18/3/45 -
Dull cold day. Held up because 10 men were missing. Late in arriving at barn near factory at Weidensdorf. During day, passed a surface coal mine with narrow gauge electric rails and factories through-out. Had meal on roadside before reaching the barn. Marched 17 k.

19/3/45 -
Left barn at 8.30, Passed numerous bomb craters and damaged buildings in small villages. Arrived at German barracks in Zeitz, a large town at 4.15. No meal, no rations issued. Crammed into building with Russians and French. Slept on dirt floor. Hunger.

20/3/45 -
Experienced heavy R.A.F. raid tonight. Tried to repair socks. Hopeless. Boots almost useless. Feeling dirty and tired, dying for a smoke, but no luck. Froggies still have bags of rations.
21/3/45 -
Left Zeitz at 10.45. 15 k. to Roda. French and Russians with us now. Column about 700 strong. Slept in barn.

22/3/45 -
Marched 16 k. from 9.30 to 5.30 over bad roads and hilly country. Now in Saxony skirting Bovaria. People none too friendly. Slept in open. Cold night with frost.

23/3/45 -
Had a wash and lay in sun, exhausted. Marched to Steudnitz. Trying to contact Stalag 9 C for rations. No luck.

24/3/45 -
Left at 8 A.M. passed through the village. Turned down the valley towards Jena for 5 k. then off on side road into hills, through Neuengonna, Altengonna, Isserstedt, Lehnstedt, Mellingen, bypassing Jena.
Jena by 8 k.
Saw a balloon barrage at Jena. Total march 30 k.

25/3/45 -
Sunday at 10.A.M. Marched along Autobahn for 11 k., passed close to Weimar and through Mellingen-Nohaz, Bussleben. Cooked grub on roadside. (Spuds and Apples). Slept in barn. Marched 24 k. Am now aching head to foot. Eyes hurt and so do feet.

26/3/45 -
Issued 400 grams of bread. Also meat. Wondrous of days. Marched via Bussleben, Linderbach, Erfurt, Schmira, Tettleben, Siebleben (4 k. from Gotha). Slept in barn. Air raids all day and everyday. Marched 27 k.

27/3/45 - In barn. Issue Knackepbrotx cheese.
28/3/45 -
Through Siebleben, Trugleben, Aspach, Mechterstadt. In barn again. More rations and cheese. Rations getting poor again. Marched 17 k.

29/3/45 -
Via Mechterstadt, Kalberfeld, Shonan, Eisenach, Stedtfeld. Soup issued at Eisenach on to barn. 20 k.

30/3/45 -
Through Stedtfeld and Spiahra. Barn again. Stole leeks and flour tonight from farm. Lots of Aircraft over-head. Rumors of Americans breaking through on Western front and that Yanks nearing Eisenach. 16 k. I was beaten for swiping food by the German guards.
31/3/45 -
Lots of air activity this morning. Yanks are bombing and strafing. Undecided as to making break. Can't believe Yanks are so close after studying map. Joe decides to stay with the column. So do I. Ordered to return to Eisenach, everyone very down-hearted. It's rumored that Cassel taken. Returned 18 k. Road strafed and bombed, also shelled by Yanks Artillery. A few casualties among us.

1/4/45 -
Through Eisenach (slept in open) to Munden today. 17 k. Some of the men made a break at nightfall. Joe and I too weak to go. Decide to hang on.

2/4/45 - Through Gotha to Siebleben 15 k.
3/4/45 -
Left about 12.30. Some Russians murdered by the Jerries before we left village. Back through Erfurt to Bussleben. Yank artillery just behind us on the road. Continually strafed. No casualties. Germans looting shops. Begged a little bread from a bakery. 27 k. Arrived about midnight.

4/4/45 - On the road again and stopped at Airdrome 12 k.
5/4/45 -
No sooner left airdrome and the place was blown sky-high by Yanks and British Aircraft. On through Weimar Kleinromstadt 23k.
http://www.buckdenpike.co.uk/lamsdorfmarch.html
http://camomilesworld.com/raid/lammsdorfmarch.html
George Trundle: the long march
George Trundle describes his forced march across Germany - [ Realplayer version (595kb); MP3 version (813kb)]
Map of his march across Germany
This map is derived from the oral history interview with George Trundle. It shows the course of his march with numbers indicating places he mentions in the interview.
Key
Görlitz - start, Stalag 8A
Bautzen
Kamenz
Köningsbruck
Meissen
Borna
Eisenberg
Jena
Erfurt
Gotha
Duderstadt
Blankenburg am Harz
It started fairly abruptly—the Russians were breaking through, once again from — and getting fairly close and getting very close and the next time we were on the road...so before we knew it, we had orders to get our gear together and get out. The next time we were on the road. I've got a map [interruption while map is obtained] … Now — The march out from Görlitz, VIIIA, covered from Görlitz to Blankenberg am Harz which is near the town of Gottingen, where Gottingen university is. The towns covered in order were: Gorlitz to Bautzen to Kamenz to Koningsbruck, Meissen where they made the ceramics. We slept in the Meissen works which was lovely and warm, and Borna, Gotha Eisenberg, Stenditz, we spent the night in a stone quarry in the freezing rain, Jena, Schonstet, Halberstalt, Erfurt, Erfurt was where they made the ovens for the Jewish holocaust Duderstadt, Gottingen, Blankenburg am Harz, the Harz mountains were there. That covered 24 days — 3 and a half weeks…
We did that march out and we also saw the column of Jews from our march at one period, which I'll describe...No, we weren't [able to talk to them] Had we been able to we'd have been shot. Our guards, when we saw the Jews to the north, our guys started to look over—they were very curious as to what was going on and our guards were terrifically nervous and even menacing. They knew they'd be in trouble if we were allowed to contact the Jew column. The column was very long and it stretched right back to the horizon behind us. The figures were just pyjama-dressed Jews in their striped, thin uniforms. They carried nothing. Each person had nothing to carry, but in front of this huge column was a small cart drawn by six people laden presumably with their belongings, whatever their belongings could have been. As night fell we lost contact with them and never saw them again....
[Conditions on march]. Usually at night they'd find a farmer's big barn or something like that where we could stay the night but the reason we had to sleep in the stone quarry was that a column had gone through before us and rifled all the farmer's spuds or apples or something and the mayor of the town said let them sleep in the bloody stone quarry so that we spent the night there. It was dreadful— all these horrible rocks and rubbish and pouring freezing cold rain so… We did get issued with — I think— a loaf —this little bun, loaf and a few stews at night when we stopped at night on a farm, soup. Actually any food we saw on the way — fruit or vegetables or stuff — we pounced on and ate.